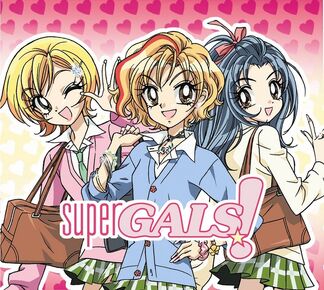 Super Gals! Kotobuki Ran
is the 52 episode anime adaptation for the popular manga series Gals!.
Production and Release
Edit
Super GALS! Kotobuki Ran (often refered to as Super Gals!) aired from April 1st, 2002 to March 31, 2002. The first 26 episode were licensed and dubbed by ADV Films from 2003-2006. The Right Stuf International licensed the full series in 2006 and released the remaining 26 episodes in a subtitled only boxset in 2007. They later released a full 52 episode boxset in 2010. 
The series stars Ran Kotobuki, a Shibuya Gal who is determined to live as a gal for the rest of her life. The series follows Ran though her many adventures living her Gal life, defending her terf in Shibuya, battling rivals, trying to make it though school, and finding true loves. It may seem like alot but with her Gal pals by her side, nothing can stop Ran.
No.
Title
Original air date
1
The World's Greatest Gal ♥ Go! Go! → Ran Kotobuki
April 1, 2001
Ran lives in the fascinating world of Gals, who are teenage girls with bleached/dyed hair, baggy socks, and short school skirts, and an attitude to match. Ran and her friend, Miyu Yamazaki spend most of their waking hours in the district of Shibuya, where they encounter Rei Otohata and Yuya Asou, the first and second place winners of the Super High School Student Grand Prix. Ran also meets Aya Hoshino, an academically strong classmate, but it is rumored that she has been subsidating, that is dating men for money! Ran tries to convince Aya that subsidating is wrong, but Aya refuses to listen, and she happens to be on her way to one that could mean giving up her body
2
Shibuya ♥ Thrilling → Great Dragnet
April 8, 2001
Spring is here, and with Aya as her new friend, Ran is ready to take on Shibuya! But maybe it would help if only she had a little more money. Ran's family is full of cops. Her father is the chief of police, her mother a people woman, and her older brother Yamato, a cop. Ran refuses to take on a blue suit, or walk a road her parents paved for her. But, when the question of righting ten wrongs for 500 yen comes up...how can she refuse? Ran is ready and willing to catch a purse snatched, who happens to use Ran for more than she knows. Now Ran is being interrogated by cops, for someone is phone hunting, using her name! Even Rei was dragged into this one! Can Ran and her friends (with the helping hand of Rei, even if he is often scowling) dragnet the real culprit, before Ran gets into deep trouble?
3
A Girl's Feelings ♥ Heart Pounding → Red Mesh
April 15, 2001
Just as Miyu is considering getting a red streak for her dear Yamato (also known as Ran's older brother), mysterious love notes begin popping up in Miyu's desk. When she finally comes face to face with her admirer, now revealed to be Kenji Yoshida, he is not exactly what she was expecting. Rough, and slightly demanding with Miyu, she can only be happy that Ran was there to save the day. But things have been on the rocks with Yamato and Miyu...does Yamato love Miyu as a man, or as a cop? With some help from Ran, will Yamato be able to protect Miyu, when she needs it most? But as a man, not a cop?
4
Have It? ♥ Don't Have It? → Luck With Guys?
April 22, 2001
Ran is down and depressed with the lack of GL (good looking) guys in Shibuya. To make matters worse, her luck with guys appears to be lower than she expected. 95% lower. She wants to prove that she just doesn't pick up losers and jerks. So when a new guy appears, who Ran affectionately dubs 'Mitchy' interested and constantly flattering Ran, how can she resist? But, does Mitchy really like Ran...or is it a plot of something unknown to Ran, from one of her many rivals?
5
Heart ♥ In Pieces → Is It Over With Aya!?
April 29, 2001
Aya is having a great time being friends with Ran and Miyu. Everything is just peachy, until Aya's grades take a nosedrive on a exam. She then decides she no longer wants to be friends with Ran and Miyu. But life without them, is dull and boring. Aya is getting fed up with herself and the mistakes she is making. Meanwhile, two girls from Bukuro, the infamous Mami Honda, and her sidekick, Harue, are taking over Shibuya! Can Ran juggle trying to convince Aya to come back, and fighting off her new rivals?
6
7
8
9
10
11
12
13
14
15
16
17
18
19
20
21
22
23
24
25
26
27
28
29
30
31
32
33
34
35
36
37
38
39
40
41
42
43
44
45
46
47
48
49
50
51
52
Community content is available under
CC-BY-SA
unless otherwise noted.